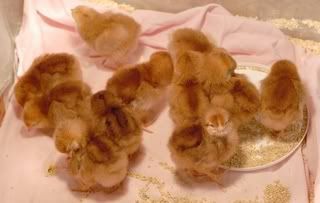 10 girls and 1 boy. Rhode Island Reds. Their names:
Billy the Boy
Banana
Tweety
Rhyme
Reason (can you tell we recently finished The Phantom Tollbooth???)
Flitter
Flutter
Peep
Lily
Zannie
Now, don't ask me which is which--ask the girls! Billy's got a band around his leg, that's the only way I know him! And Banana is the one that is more yellow than anyone else.
What have we got ourselves in for???!!!!!???