Fin, the 25 foot fiberglass salmon that's traveling across America, came to our neck of the woods. Sorta. Wasn't exactly close, but we made the trip to Pittsburgh this week to see Fin. It was the closest he was going to be to us.
We got to meet some of the folks with Save Our Wild Salmon. They seemed pretty excited that
one of the top four winners of their recent art contest
made the effort to come see them.
After visiting with them, and receiving a copy of the calendar that dd10's drawing is in, we went on into the zoo to make the most of the day. (BTW, the calendar will be for sale sometime in June at their
website
. 18 months and 20 pictures from youth all over America.)
I'll post pictures of Fin here, then put the several zoo photos in another entry.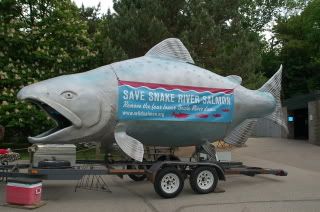 Fin!
Can you imagine see this 25 ft. fish
going down the highway?!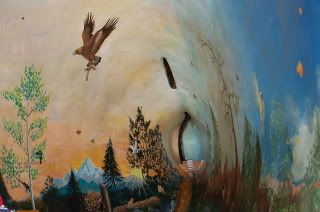 The inside of fin is beautifully painted,
showing all the animals wild and free.