So, dd soon to be 10, enters 4 drawings in the local art show. One does not win anything at all. That leaves 3. Well, she brought home FOUR (4!) ribbons on those three pictures! My talented young lady with the oh so swollen head (especially today!) won a BEST OF DIVISION!
When she entered this particular art show for the first time two years ago, she got a "Judges Appreciation" ribbon, which means she didn't place, but they appreciated her work. At that time, there were two divisions: Professional and Non-Professional. Or maybe there were three and they did have a Student division that included any student up to 12th grade. Can't remember. In any case, she was up against way older and more experienced artists. We were told that because of her they were changing the show the following year and creating a children's division/subdividing the student division.
Last year they did make the changes. She entered 4 pictures and took home FIVE (5!) ribbons! She won an Honorable Mention Best of Division, which is above a first place and of course just below the Best of Division award that is the highest you can earn. Only those pictures getting a first place are put in the running for a Best of Division or Honorable Best.
Then this year she took the Best of Division--the highest you can earn--for her picture
Sea Mist
! The ribbon is slightly longer than the picture!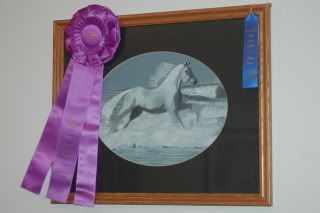 She did get some cool prizes, along with her Best of Division ribbon: a t-shirt, some passes to a nearby putt-putt golf place, a gift certificate for an art class (with her current teacher!! Whoo hoo!), a painter's palette, a metal pencil case, and some art supplies like watercolors and markers.
The rest of the results.......
DD10 took a second place for the Blue Ice Dragon and third for Ebony. She did not place for the Blue Heron--which was my personal favorite.
DD7 took first place with her painting of Grandma's Sunflower.
Mom took third for Camouflage (the tiger).
Me? I got to be escorted to the awards presentation by three beautiful artists!
PS, see
my other blog entry
if you missed the pictures.
.