I probably bake more in October, November, and December more than any other time of the year. I suppose part of it is because of the holidays. Maybe more of it has to do with the crisp cool air outside. I hate baking when it's sweltering outside.
Anyway, a friend (Hi Cindy!) gave me a starter of her sourdough, so I've been carefully feeding it and having fun experimenting. The first thing we made was just a loaf of sourdough bread......yummy! Then we made pizza stromboli, which was a huge hit with the girls! Then it was apple cinnamon stromboli. I made 5 of them and gave some away.....one to the neighbor boys since one was done right when they got off the school bus. Another to my husband's parents and another to my daughter's art instructor.
Here's a picture of one of them: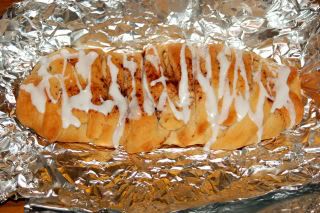 I'd share the recipe, but it uses a sourdough starter for the bread, and the filling I just kinda made up as I went!
Right now, I've got one part of the sourdough in the breadmaker baking a loaf of bread (it smells soooo good!), and another part on a pizza pan to make a regular pizza, and then I'm making a small pizza stromboli for the girls since they asked for it.