.
Last night I learned on the
Five in a Row boards
(thanks, Sheila!), that there would be an total lunar eclipse early this morning. Here's how it would go:
Here's a picture of the full moon that I took before going to bed: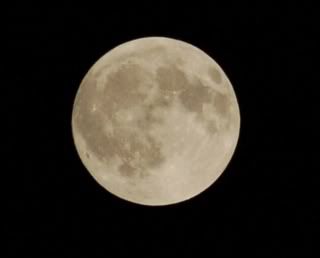 So, anyway,I told Elizabeth that if we got up in the morning, we'd watch it. I set my alarm for 4:40 and went to sleep. A little after 5:00 a.m., Elizabeth wakes me up, saying it's time! I had forgotten to turn my alarm on!
We went outside, but the moon had already gone down into the tree line of the hill behind us. So we went for a drive!
We got to watch it until it went full eclipse. Here are a couple pictures I took: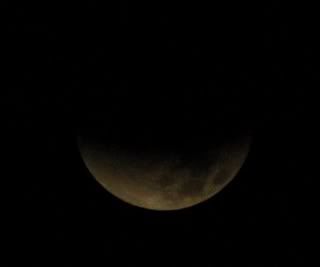 Next time I need to remember to take the tripod, so I can let the shutter stay open longer!
We came back home to get dh off to work and also woke up my younger daughter. We headed back out to view the rest, but it was a bit foggy and moonset had occurred, so we never saw it again.
What a great way to start school!
Thank You, Lord, that we are able to homeschool and take advantage of such times! Thank You, too, that the girls are eager to see Your wonders. Also, thank You, for the FIAR board, where I often learn about such great opportunities!
.